Advanced Remedial Massage & Remedial Exercise
...deep oil massage and joint mobilisation for the effective treatment & support of amongst others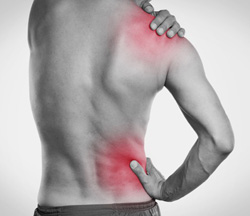 JOINT PAIN AND DISCOMFORT
BAD BACK
SPASM
OSTEOARTHRITIS
TENSION HEADACHE
1. How can Advanced Remedial Massage help me?
Advanced Remedial Massage is effective in the treatment of neck & shoulder tension so often experienced by office workers and computer users...also people who drive long distances as part of their job. It is also effective in the management of Arthritic conditions such as hand stiffness and reduced joint motion.

2. How does Advanced Remedial Massage Therapy differ from other types of massage?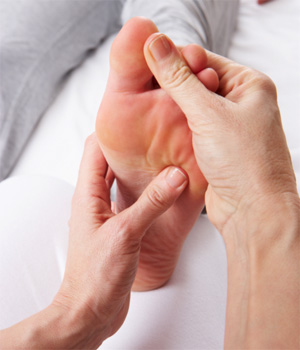 Advanced Remedial Massage is a deep form of 'oil massage' that works directly onto the skin; unlike the Hendrickson Method which is normally performed with the recipient fully clothed.
An Advanced Remedial Massage Therapist is trained to a high level over a longer period of time in postural assessment, palpation, range of motion assessment, soft tissue manipulation, joint mobilization, remedial home exercise provision etc. This is not a spa / holistic massage treatment.
Advanced Remedial Massage treatment follows a goal oriented approach to resolve the presenting problem utlising a short term and long term treatment plan.
This is typically a very deep massage combined with joint mobilisation; some aspects can be applied lightly...for example around the hands, neck and face.
3. Advanced Remedial Massage treatment has many benefits...

Improves Posture...helping people who work at computers for a living to manage neck, shoulder pain, headaches and tension.
Promotes improved musculoskeletal equilibrium...helping arthritic sufferers to manage pain.
Reduction of pain and dysfunction in muscle and joints...helping people with chronic back problems.
4. What happens during a session?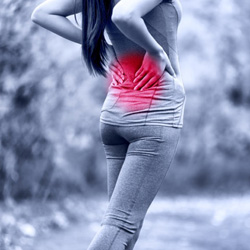 First Remedial Massage Appointment is normally 60 minutes and is split into 3 sections: Consultation, Assessment, Treatment. For more complex issues the consultation and assessment may take longer and a 90 minute appointment is recommended.
Treatments are performed either on a massage couch or in a chair. Treatment normally begins with relaxation massage techniques from where Remedial Massage techniques are employed as required. I like to make my remedial massage treatments as relaxing and as enjoyable as possible ...as well as being highly effective... using warm blankets, warm aromatherapy oils, relaxing music, heated spa massage couch etc.
5. How many sessions will I need & how long are treatments?
Appointments are normally 45 minutes (£35), longer or shorter appointments are available ... 30 minutes £30, 45 minutes £35, 60 minutes £45, 90 minutes £60, 2 hours £80.
6. Therapy Room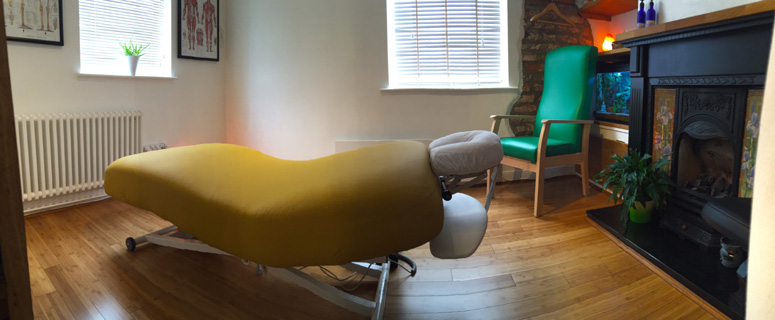 I work from home and have created a bright, uplifting therapy studio. The massage couch I use is a fully electric - height / back rest / knee lift - adjustable thickly padded, extra wide, heated spa couch. Changing facilities are provided in the therapy room which is closed off by screened doors whilst you prepare for your treatment.
7. 2019 Price List & Treatment Options
Treatments are undertaken from an uplifting, smart dedicated therapy space located at the following address within the Historic Market town of Beverley in East Yorkshire.
'Corner Cottage', No 2 Pasture Terrace, Beverley, East Yorkshire, HU17 8DR' (opposite number 35 Pasture Terrace)
There is normally plenty of street parking available for up to 2 hours..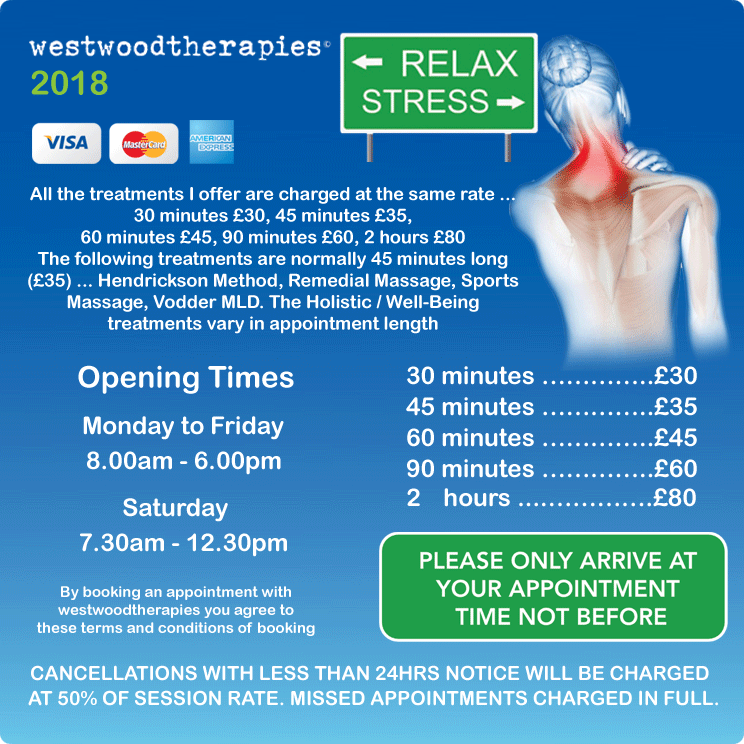 8. Booking an appointment or making a general enquiry
Text message is the best way to contact me, I can usually reply between appointments.
Mobile –
e-mail –
Andrew Brown - NAMMT (RMAdv)
Professional Associations - Registered Member Of
NAMMT - National Association of Massage & Manipulative Therapists
Qualifications & Training
Advanced
Hendrickson Method Practitioner (level 5)
Advanced Remedial Massage Diploma - Northern Institute of Massage (level 5)
Dr. Vodder method of Manual Lymphatic Drainage Massage (to Therapy 1)
Level 4 Sports Massage & Sports Injury Management (ITEC)
Advanced Strategies in Deep Tissue Massage & Myofascial Release (Art Riggs)
Provision of Remedial Exercise
Introduction to Strength & Conditioning
Trigger Point Therapy
Somatic Movement Coaching HSE Level 1
Tui Na - CPD
Holistic
Holistic (Swedish) Massage ITEC Level 3
Aromatherapy Pre-blends ITEC Level 3
Onsite Chair Massage
Detox Massage
Thai Massage (Levels 1 & 2)
Hawaiian Facial Massage
Lomi Lomi Hawaiian Massage Diploma
Reiki Level 1 & 2 since 1999 ...Master/Teacher Level since 2006
EFT Advanced Therapist
Traditional Ear Candling