Deep Tissue Massage & Fascial Release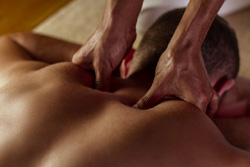 1. How can Deep Tissue Massage help me?
Deep Tissue Massage & Fascial Release are a slow and deep form of massage, working on the deep, soft-tissue structures of the body. It is the ideal treatment for people who have deep body tension and musculoskeletal restrictions but don't want a sports or remedial massage ...which although are very deep forms of massage can be fast and intense.
Deep Tissue can also be enjoyed as a relaxation treatment ...with hot towels applied to the feet, and sometimes head/face, as part of the treatment to make it a deeply relaxing and enjoyable massage.
2. How does Deep Tissue Massage Differ from other types of massage?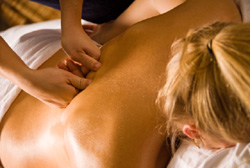 This is a slow, slow massage style with very long, deep strokes using forearms, loose fists and palms during the treatment to create a sustained pressure to 'move' the deeper underlying tissues and connective structures of the body. A little massage wax is used to create a very small amount of glide to prevent the treatment from being uncomfortable. The massage movements are much, much slower and longer than those of a remedial or sports massage which employ vigorous lifting and muscle rolling techniques. The aim being to encourage the muscles and deep connective tissues to unwind and release, helping bring about a calming release. I sometimes include Thai Massage stretches in with deep tissue massage to open and ease the joints and add an enjoyable, extra dimension to the treatment.
3. Deep Tissue Massage treatment has many benefits...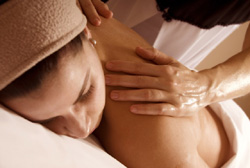 Facilitates the release of deep seated tension trapped in the bodies connective tissue.
Helps improves circulation and lymphatic flow across the body...promoting well-being
Helps promote greater energy and vitality... freeing up trapped connective tissue and releasing stiffness helps your nerves and vessels function freely which in turn helps vitality to flow freely
Promotes deep rest and relaxation...promoting greater health and well-being
4. What happens during a session?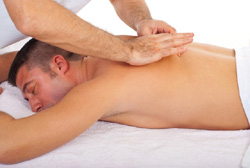 At the first appointment I take you through a consultation process to record your medical history and to chat with you about the areas of your body which are holding more tension. An assessment is included, if needed, to look at a specific area of the body. During the treatment you will be covered with an extra large warm blanket. The massage usually starts with work on the back and extends to the rest of the body from there.
5. How many treatments will I need and how long are they?
Deep Tissue Massage can be enjoyed as one off relaxation treatment or as a course of treatment to help with a specific issue. Deep tissue treatments are usually 60 or 90 minutes and can be either part body or full body.
6. Therapy Room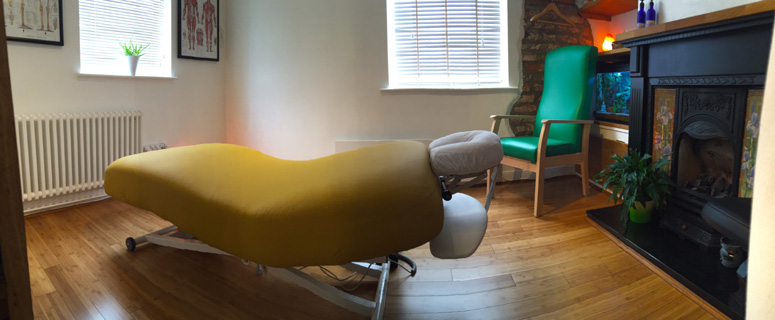 I work from home and have created a bright, uplifting therapy studio. The massage couch I use is a fully electric - height / back rest / knee lift - adjustable thickly padded, extra wide, heated spa couch. Changing facilities are provided in the therapy room which is closed off by screened doors whilst you prepare for your treatment.
7. 2019 Price List & Treatment Options
Treatments are undertaken from an uplifting, smart dedicated therapy space located at the following address within the Historic Market town of Beverley in East Yorkshire.
'Corner Cottage', No 2 Pasture Terrace, Beverley, East Yorkshire, HU17 8DR' (opposite number 35 Pasture Terrace)
There is normally plenty of street parking available for up to 2 hours..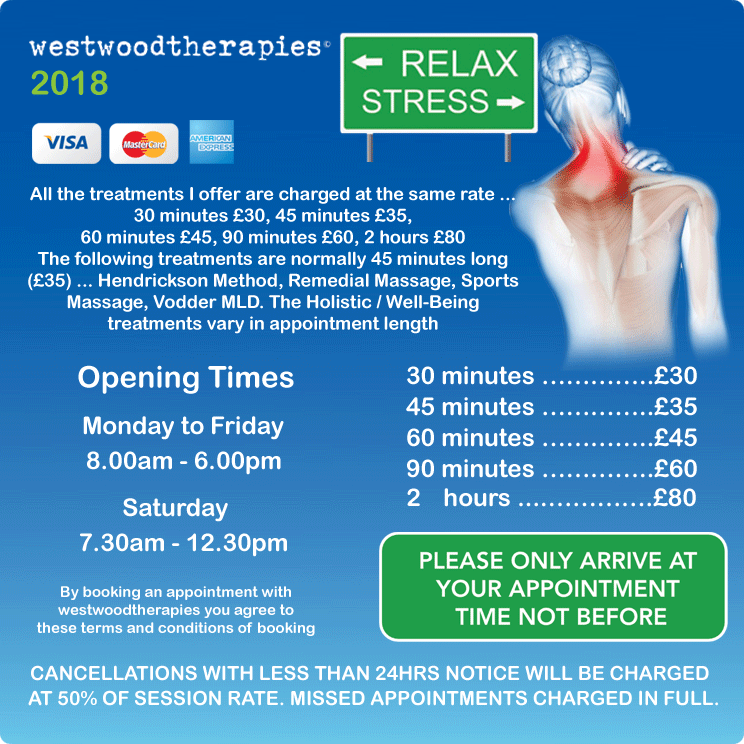 8. Booking an appointment or making a general enquiry
Text message is the best way to contact me, I can usually reply between appointments.
Mobile –
e-mail –
Andrew Brown - NAMMT (RMAdv)
Professional Associations - Registered Member Of
NAMMT - National Association of Massage & Manipulative Therapists
Qualifications & Training
Advanced
Hendrickson Method Practitioner (level 5)
Advanced Remedial Massage Diploma - Northern Institute of Massage (level 5)
Dr. Vodder method of Manual Lymphatic Drainage Massage (to Therapy 1)
Level 4 Sports Massage & Sports Injury Management (ITEC)
Advanced Strategies in Deep Tissue Massage & Myofascial Release (Art Riggs)
Provision of Remedial Exercise
Introduction to Strength & Conditioning
Trigger Point Therapy
Somatic Movement Coaching HSE Level 1
Tui Na - CPD
Holistic
Holistic (Swedish) Massage ITEC Level 3
Aromatherapy Pre-blends ITEC Level 3
Onsite Chair Massage
Detox Massage
Thai Massage (Levels 1 & 2)
Hawaiian Facial Massage
Lomi Lomi Hawaiian Massage Diploma
Reiki Level 1 & 2 since 1999 ...Master/Teacher Level since 2006
EFT Advanced Therapist
Traditional Ear Candling