Therapies Overview Qualifications
Deep Tissue Massage & Fascial Release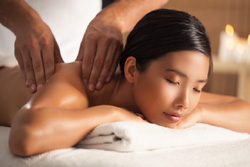 This is a deep form of restorative massage that uses a 'massage wax' instead of oil which allows greater grip a much deeper and slower glide across the muscles and bodies connective tissues (Fascia) without just sliding over the body as happens in an oil Swedish Massage or Aromatherapy Massage. This massage is all about restoring health and well-being and just allowing tension to unfold and release from the body through the application of nice long slow hand and forearms strokes. A very popular choice for clients who use massage as part of an on-going maintenance well-being program and want a long, slow, deep massage. I'm qualified in several styles of deep tissue massage and bring all these together in this treatment.
1. Who can benefit from Deep Tissue Massage & Fascial Release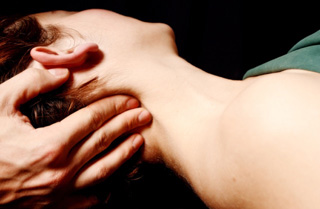 Deep Tissue Massage can be enjoyed by most people; regular clients include amongst others:
Dentists
Doctors
Athletes
Office Workers
Gardeners
Massage Therapists
Beauty Therapists
Horse Riders ….
2. How does Deep Tissue Restorative massage differ from other forms of massage?
This style of massage is wonderfully slow and deep, as the name suggests, as opposed to Holistic/Swedish massage or Remedial / Sports Massage. The pressure in this style of massage can vary from deep to very deep depending on your preference and it can include joint mobilisations to help normalise joint function which in turn relaxes and balances the surrounding muscle groups. Deeper pressure allows the underlying structures (joints and soft tissues) to be worked including the bodies Fascia or 'Connective Tissue'. An assessment process can be used to help identify problem areas of tightness, restriction and dysfunction ...or this can be just a nice long really deep whole or part body relaxation massage ...as you prefer.
3. What are the Benefits of Deep Tissue massage?

Improved range of motion of joints and limbs
Very, very effective at releasing deep held tension and tightness
Reduction of inflammation across the body, reduction in pain
Reduction of muscle spasm which can interfere with normal posture and movement, improves muscle tone
Reduction of stress, anxiety & worry
Lifts the mood and exhaustion
Supports the immune system
Stimulates lymphatic, circulatory, respiratory & digestive systems
Improvement in overall well-being & enjoyment of life.
Feels GREAT !!!
4. What can I expect during a treatment?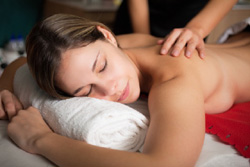 At the first appointment a consultation and if needed an assessment are undertaken to screen out anything which may require medical intervention or a different type of therapy, areas of tension are recorded and a treatment plan created. I will leave the room and let you undress and get comfortable on the couch under a warm fleece blanket.
For a whole body treatment (60 or 90 minutes) this style of massage treatment usually starts with you face down on the couch covered by a warm fleece blanket. Paper pants can be provided if you want to include gluteal massage which works the whole side of the body from feet to head in one go.
My couch is an extra thickly padded, extra wide, heated fully adjustable spa model with Oakworks Buoyancy face cushion that has rubber balls filled with water inside the foam padding to ease the pressure around the head and face combined with an Earthlite comfort flex face cradle to further reduce any head/face pressure.
As the massage progresses hot towels can be used to wash the feet and they are applied to other areas of the body to increase blood flow and further ease the area being worked. Joint mobilisations can be included as needed to further promote a release of deep tension and restriction.
At the end of the treatment I will leave the room and give you space to dress and get ready to return to the day to day work rested and restored.
5. How long are Deep Tissue Massage treatments and how many will I need?
A Deep Tissue Restorative Massage & Fascial Release can be 60 or 90 minutes; this style of treatment can be enjoyed as often as you like as part of a regular 'well-being practice' or it can be part of a specific program with weekly or bi-weekly treatments over a number of weeks to help resolve or manage an issue.
6. Therapy Room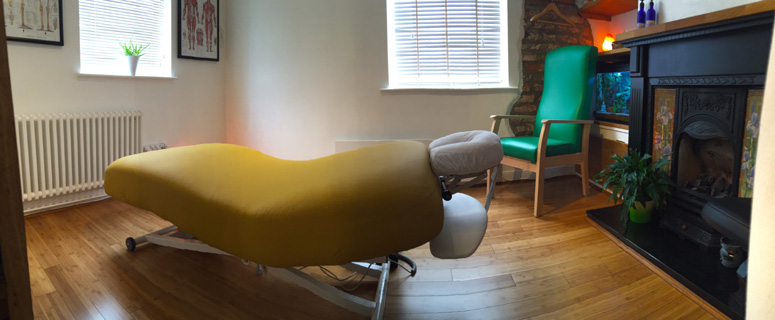 I work from home and have created a bright, uplifting therapy studio. The massage couch I use is a fully electric - height / back rest / knee lift - adjustable thickly padded, extra wide, heated spa couch. Changing facilities are provided in the therapy room which is closed off by screened doors whilst you prepare for your treatment.
7. 2021 Price List & Treatment Options
Appointment Times...(varies)
Mon / Tues / Thurs / Fri ....& every 4th Saturday...
...9am / 11am / 1pm / 3pm / 4.30pm

All therapies charged at the same rate :
60 minutes ….. £55
90 minutes ….. £75
Payments Accepted
All major cards, Apple Pay, Bank Transfer, Cash

TERMS & CONDITIONS OF BOOKING :
Cancellation Charges ... unless the appointment can be filled
Less than 48 hours 50%
Less than 24 hours 100%
Missed appointments 100%
8. Booking an appointment or making a general enquiry
Text message is the best way to contact me, I can usually reply between appointments.
Text ….or call …(any time) – 07747 842 748
e-mail – westwoodtherapies@icloud.com
9. Qualifications and Training
Andrew Brown - NAMMT (RMAdv), Dip. Tui Na F BH®
Professional Associations - Registered Member Of
NAMMT - National Association of Massage & Manipulative Therapists
CNHC - Complementary & Natural Healthcare Council
Qualifications & Training
Advanced
Tui-Na / Chinese Massage and Manual Therapy Foundation Diploma (Body Harmonics)
Hendrickson Method Practitioner (level 5)
Advanced Remedial Massage Diploma - Northern Institute of Massage (level 5)
Dr. Vodder method of Manual Lymphatic Drainage Massage (to Therapy 1)
Level 4 Sports Massage & Sports Injury Management (ITEC)
Advanced Strategies in Deep Tissue Massage & Myofascial Release (Art Riggs)
Provision of Remedial Exercise
Introduction to Strength & Conditioning
Trigger Point Therapy
Somatic Movement Coaching HSE Level 1
Tui Na - CPD introduction (Gateway)
Holistic
Holistic (Swedish) Massage ITEC Level 3
Aromatherapy Pre-blends ITEC Level 3
Onsite Chair Massage
Detox Massage
Thai Massage (Levels 1 & 2)
Hawaiian Facial Massage
Lomi Lomi Hawaiian Massage Diploma
Reiki Level 1 & 2 since 1999 ...Master/Teacher Level since 2006
EFT Advanced Therapist
Traditional Ear Candling
'Pregnancy Massage' gateway