Ear Candling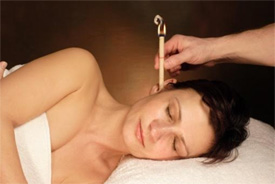 1. Ear Candling is a holistic treatment used to help draw out excess ear wax and other blockages and pollutants from the ear canal and to help open the sinus cavities
Traditional Ear Candling sometimes referred to as Hopi Ear Candling is a soothing and relaxing thermal therapy which safely and painlessly uses the heat of flame to clear the ear canal and open the sinuses. The treatment uses a Bio-Sun hollow wax candle which has a safety filter near the lower end on the inside to prevent ash from falling into the ear.
2. How can Ear Candling help me?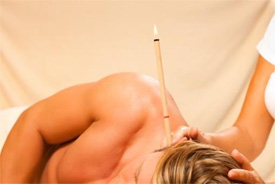 Removal of excess wax usually results in better hearing
Removal of parasites that may be in the ear canal
Help clear mould caused by Candida
Aid in the reduction of sinus pressure
Aid with the clearing of the energy channels of the ear/head
...can help with the following conditions:
Sinus congestion
Wax build up causing temporary hearing reduction and discomfort
Head colds
Swimmers ear
Earache
3. What happens during a treatment?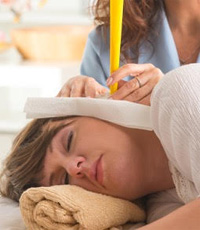 You will be laid on your side with your head supported by a pillow and body covered with a blanket. The candles are made from a sheet of wax rolled into a tube with a plastic filter inside near the base to prevent any debris from falling into the ear and also a small plastic lip at the base to make a comfortable seal. The candle is positioned into the ear and held by the therapist whilst it burns down, the heat softens and draws out wax from the ear canal creating a clearing affect. Once both ears have been treated you are repositioned onto your back and Manual Lymphatic Drainage treatment is given to the neck, face, head and ears to help with further clearing. The remaining part of each candle is opened after the treatment to see how much wax has been drawn out.
4. How long are the treatments?
Normally 45 minutes, there is a short consultation at the start of the first appointment.
5. Therapy Room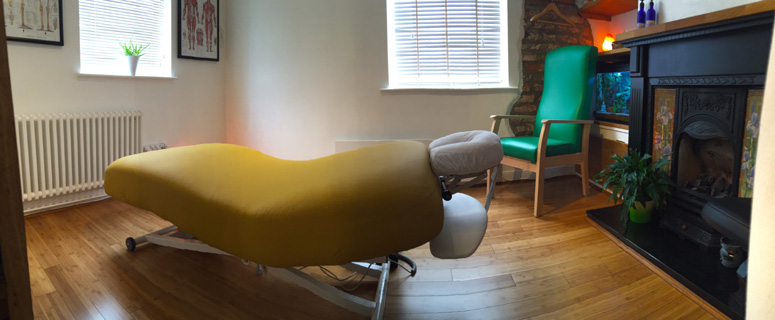 I work from home and have created a bright, uplifting therapy studio. The massage couch I use is a fully electric - height / back rest / knee lift - adjustable thickly padded, extra wide, heated spa couch. Changing facilities are provided in the therapy room which is closed off by screened doors whilst you prepare for your treatment.
6. 2018 Price List & Treatment Options
Treatments are undertaken from an uplifting, smart dedicated therapy space located at the following address within the Historic Market town of Beverley in East Yorkshire.
'Corner Cottage', No 2 Pasture Terrace, Beverley, East Yorkshire, HU17 8DR' (opposite number 35 Pasture Terrace)
There is normally plenty of street parking available for up to 2 hours..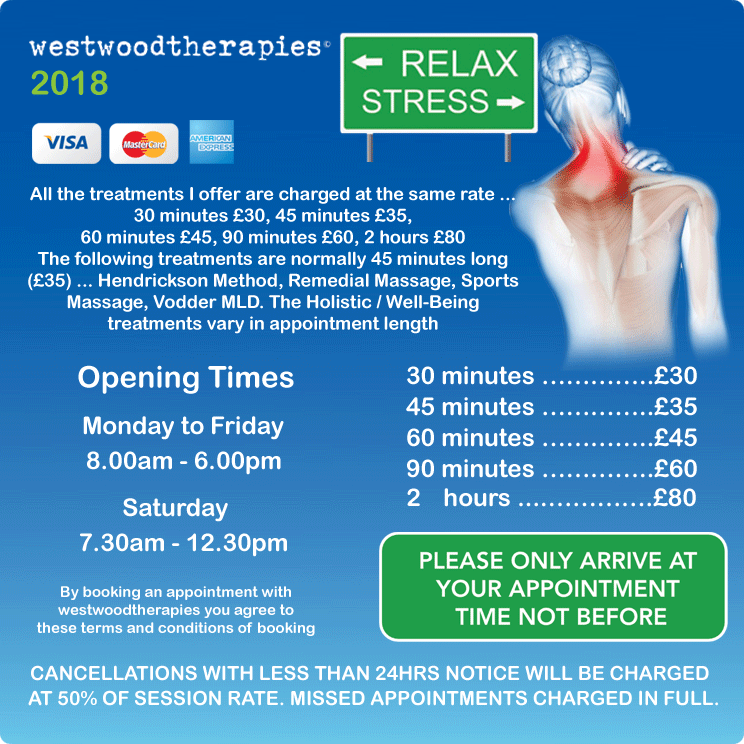 7. Booking an appointment or making a general enquiry
Text message is the best way to contact me, I can usually reply between appointments.
Mobile –
e-mail –
Andrew Brown - NAMMT (RMAdv)
Professional Associations - Registered Member Of
NAMMT - National Association of Massage & Manipulative Therapists
Qualifications & Training
Advanced
Hendrickson Method Practitioner (level 5)
Advanced Remedial Massage Diploma - Northern Institute of Massage (level 5)
Dr. Vodder method of Manual Lymphatic Drainage Massage (to Therapy 1)
Level 4 Sports Massage & Sports Injury Management (ITEC)
Advanced Strategies in Deep Tissue Massage & Myofascial Release (Art Riggs)
Provision of Remedial Exercise
Introduction to Strength & Conditioning
Trigger Point Therapy
Somatic Movement Coaching HSE Level 1
Tui Na - CPD
Holistic
Holistic (Swedish) Massage ITEC Level 3
Aromatherapy Pre-blends ITEC Level 3
Onsite Chair Massage
Detox Massage
Thai Massage (Levels 1 & 2)
Hawaiian Facial Massage
Lomi Lomi Hawaiian Massage Diploma
Reiki Level 1 & 2 since 1999 ...Master/Teacher Level since 2006
EFT Advanced Therapist
Traditional Ear Candling