Emotional Freedom Technique - EFT
...or tapping as it's sometimes referred to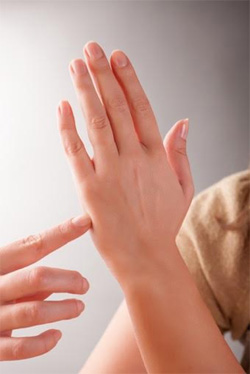 PHOBIAS
ADDICTIONS
PAIN RELIEF
STRESS
1. How can EFT help me?
EFT is sometimes described as a form of psychological acupressure, it is a non invasive technique where the therapist taps on meridian or acupressure points on the head, face, collar bone, side of the ribs and hands whilst talking the client through a verbal, guided process of connecting with the blocked emotions in an heart centred, inviting way which allows them to naturally release.
2. How does EFT differ from other types of therapy?
EFT is relatively fast to release blocked emotional trauma and can be taught to the client for self management. EFT doesn't use trance which is used in hypnotherapy, the client remains fully conscious during the process. EFT is non invasive and is designed to identify and release blocked emotions which can be contributing to imbalances and discomfort being experienced in a persons life.
3. Emotional Freedom Technique has many benefits...

Providing relief from stress and associated anxiety
Help to reduce and manage pain response
Helping with issues such as weight loss and addiction ...and also phobias
4. What happens during a session?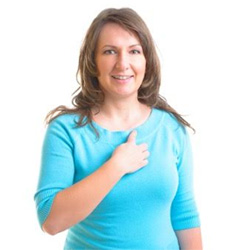 The first appointment involves a consultation where the issues you would like help with are discussed, from here the treatment is commenced. The client is seated in a chair or laid inclined on the couch with the therapist working by their side. EFT uses tapping of meridian points located on the head, face, collar bone, side of ribs and points on the hands. The rhythmic tapping distracts the conscious mind allowing the client to more easily become aware of their emotions, the rhythm also helps settle the nervous system leaving it open for change and it also activates meridian acupressure points which further allow therapeutic change to take place. The therapist will help the client focus onto one area or issue and have them grade this on a scale of 0 to 10, this helps the client align with the emotion in a heart centred way...from here the therapist begins the tapping and guided therapy talking process. Periodically the therapist will stop and ask the client to feel how much change has taken place by having them re-grading the issue from 0 to 10. During a session as the blocked emotions begin to move freely the number score will begin to reduce, eventually it is possible to release the issue enough to allow the score to reach 0 where clients will often report a feeling of complete relief.
5. How many sessions will I need & how long are treatments?
Minor problems can usually benefit from one to two treatments, longer standing chronic issues will possibly require more. Treatment times can range from 30 to 90 minutes depending on the issue. The first appointment is slightly longer to allow time for a consultation, normally 45, 60 ...or 90 minutes.
6. Therapy Room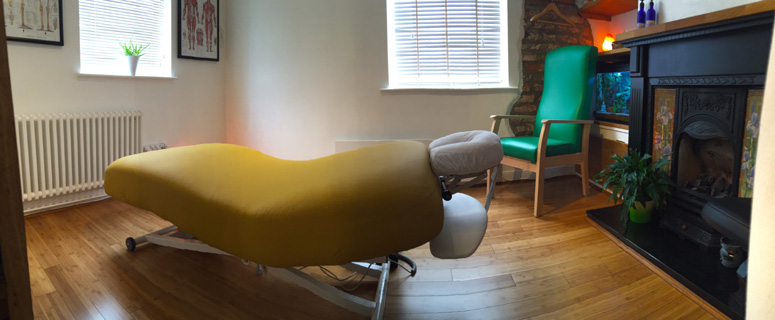 I work from home and have created a bright, uplifting therapy studio. The massage couch I use is a fully electric - height / back rest / knee lift - adjustable thickly padded, extra wide, heated spa couch. Changing facilities are provided in the therapy room which is closed off by screened doors whilst you prepare for your treatment.
7. 2018 Price List & Treatment Options
Treatments are undertaken from an uplifting, smart dedicated therapy space located at the following address within the Historic Market town of Beverley in East Yorkshire.
'Corner Cottage', No 2 Pasture Terrace, Beverley, East Yorkshire, HU17 8DR' (opposite number 35 Pasture Terrace)
There is normally plenty of street parking available for up to 2 hours..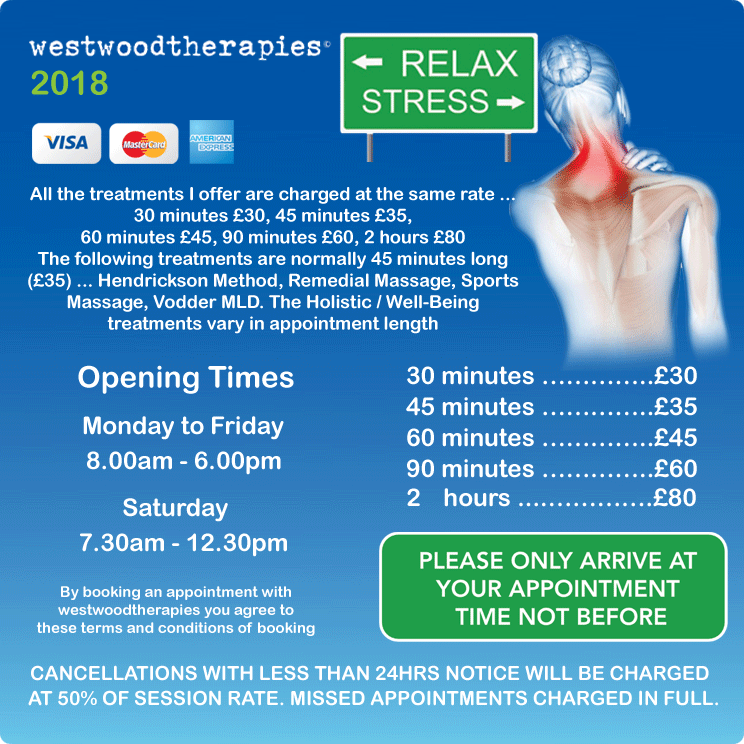 8. Booking an appointment or making a general enquiry
Text message is the best way to contact me, I can usually reply between appointments.
Mobile –
e-mail –
Andrew Brown - NAMMT (RMAdv)
Professional Associations - Registered Member Of
NAMMT - National Association of Massage & Manipulative Therapists
Qualifications & Training
Advanced
Hendrickson Method Practitioner (level 5)
Advanced Remedial Massage Diploma - Northern Institute of Massage (level 5)
Dr. Vodder method of Manual Lymphatic Drainage Massage (to Therapy 1)
Level 4 Sports Massage & Sports Injury Management (ITEC)
Advanced Strategies in Deep Tissue Massage & Myofascial Release (Art Riggs)
Provision of Remedial Exercise
Introduction to Strength & Conditioning
Trigger Point Therapy
Somatic Movement Coaching HSE Level 1
Tui Na - CPD
Holistic
Holistic (Swedish) Massage ITEC Level 3
Aromatherapy Pre-blends ITEC Level 3
Onsite Chair Massage
Detox Massage
Thai Massage (Levels 1 & 2)
Hawaiian Facial Massage
Lomi Lomi Hawaiian Massage Diploma
Reiki Level 1 & 2 since 1999 ...Master/Teacher Level since 2006
EFT Advanced Therapist
Traditional Ear Candling