1. Swedish Relaxation Massage
Swedish Massage, also known as Holistic Massage, is the cornerstone ofl Western forms of massage. This style of massage is very relaxing and perfect for clients wanting a slow and gentle massage to rest and enjoy so 'me' time in a calm tranquil healing space. The strokes used in Swedish Relaxation Massage are very light and performed in a slow rhythmic manner that helps calm the mind and allow you to become more attuned with your body in a soft and gentle way. This massage uses neutral warm oil, usually a blend of Grapeseed, Sunflower and Vitamin E.
Perfect for anyone in need of a de-stress who prefers quite a light pressure massage.
Perfect for...
Deep relaxation and rest for body and mind
Reducing and dispersing inflammation across the body
Increases well-being, helps you release stress... and just feel better
2. Deep Tissue Relaxation Massage
This is a deeper form of relaxation and restorative massage that uses a 'massage wax' instead of oil which allows a slower glide across the muscles and bodies connective tissues without just sliding over the body as happens in a Swedish Massage (above). Again this massage is all about relaxation and just allowing tension to unfold and release from the body through the application of nice long slow hand and forearms strokes. A very popular choice for clients who use massage as part of an on-going maintenance well-being program.
Perfect for...
Deeper Muscle Relaxation and restorative rest for body and mind
Reducing and dispersing inflammation across the body
Helps relax and open the joints and connective tissues for greater ease of movement
Increases well-being, helps you release stress... and just feel better
3. Head Massage
This is a Tui-Na (Chinese Massage) acupoint massage combined with Indian Head Massage. All the relevant acupuncture points and meridians running through the neck/head/face are stimulated to clear the bodies meridian channels and improve Qi flow leaving the recipient with a profound sense of clarity and calm. The first part of this massage is performed dry and the second part uses hot oil and hot towels on the head to further relax the upper body.
Perfect for...
Neck shoulder tension
Mild tension headaches
Feeling generally run down and stressed out
4. Traditional Ear Candling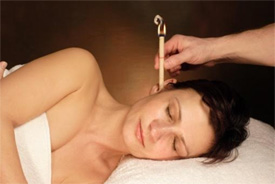 Using bees wax ear candles (with safety filter) to draw out blockages from the ear canal. An effective thermo-therapy treatment for easing congestion in the ear. The treatment includes a detailed Vodder Manual Lymphatic Drainage treatment of the neck, face and head after the candling (I'm a fully qualified Vodder MLD therapist) to help clear congestion in the neck and head / ears. Treatments are usually 45 minutes.
5. Reiki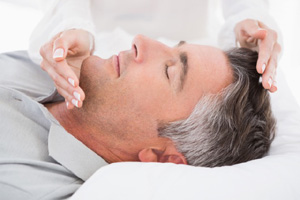 A deeply relaxing and calming form of energy healing which has roots reaching far back into into India and then Japan and from there to the West. A Reiki treatment helps gently open and clear blocked energy pathways running through the body promoting deep rest and rejuvenation of body and mind. Uses simple hand positions over and on the body to allow the REIKi energy to flow through the therapist into and through the recipient. I've practised Reiki since 1999 qualifying to Master-Teacher in 2006 and having also worked as a professional energy healer for several years during the 19990's and also having undergone over 2 decades of shamanic practice. (The word Shamanic loosely translates as one who 'touches the soul')
Perfect for...
Stress and tension
Insomnia
Feeling run down and washed out
Feeling fatigued
6. Therapy Room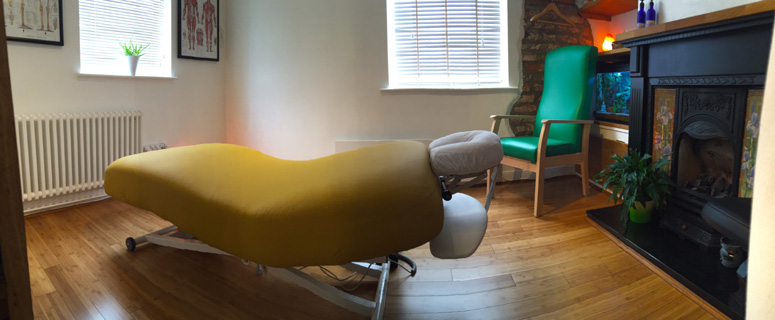 I work from home and have a light and bright dedicated therapy room with a fully adjustable, heated electric couch with extra thick comfort padding and comfort headrest to allow for extended treatments of 90 minutes and two hours
7. 2020 Prices and Appointment times
Opening Hours (Varies)
Monday - Friday ... 8.00am - 6.15pm
Saturday ... 7.30am - early afternoon
First appointments are usually either 45 or 60 minutes. All therapies are charged at the same rate.
30 minutes ….. £35
45 minutes ….. £40
60 minutes ….. £50
90 minutes ….. £70
120 minutes … £90

TERMS & CONDITIONS OF BOOKING :
Cancellation Charges ... unless the appointment can be filled
Less than 48 hours 50%
Less than 24 hours 100%
Missed appointments 100%
8. Booking an appointment or making a general enquiry
Text message is the best way to contact me, I can usually reply between appointments.
Text ….or call …(any time) – 07747 842 748
e-mail – westwoodtherapies@icloud.com
9. Qualifications and Training
Andrew Brown - NAMMT (RMAdv), Dip. Tui Na F BH®
Professional Associations - Registered Member Of
NAMMT - National Association of Massage & Manipulative Therapists
Qualifications & Training
Advanced
Tui-Na / Chinese Massage and Manual Therapy Foundation Diploma (Body Harmonics)
Hendrickson Method Practitioner (level 5)
Advanced Remedial Massage Diploma - Northern Institute of Massage (level 5)
Dr. Vodder method of Manual Lymphatic Drainage Massage (to Therapy 1)
Level 4 Sports Massage & Sports Injury Management (ITEC)
Advanced Strategies in Deep Tissue Massage & Myofascial Release (Art Riggs)
Provision of Remedial Exercise
Introduction to Strength & Conditioning
Trigger Point Therapy
Somatic Movement Coaching HSE Level 1
Tui Na - CPD introduction (Gateway)
Holistic
Holistic (Swedish) Massage ITEC Level 3
Aromatherapy Pre-blends ITEC Level 3
Onsite Chair Massage
Detox Massage
Thai Massage (Levels 1 & 2)
Hawaiian Facial Massage
Lomi Lomi Hawaiian Massage Diploma
Reiki Level 1 & 2 since 1999 ...Master/Teacher Level since 2006
EFT Advanced Therapist
Traditional Ear Candling