Swedish Massage

...using NHR ORGANIC OILS 'The Purest Range of Certified Organic Essential Oils in The World'
...with an advanced massage therapist
1. Swedish massage is a wonderful way to help with general tension, muscle aches, stress, sleep problems etc.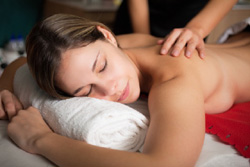 The massage techniques applied in an Aromatherapy treatment come from Swedish Massage which is the corner stone of all Western forms of massage. Swedish Massage is often referred to as Holistic Massage (Relaxation Massage) as it uses a whole body/mind approach to facilitate the release of stress and tension in the support of natural healing. Aromatherapy has the added benefit of the healing effect of essential oils which are blended with the base/carrier oil that is used for the massage treatment.
2. How can Swedish Massage help me?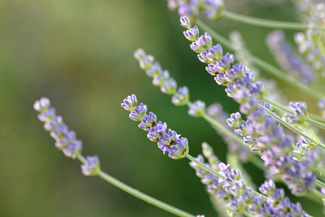 The following represent a good cross section of the types of conditions that Aromatherapy Massage is very effective at treating.
Stress & Anxiety
Tension
Restlessness
Tiredness
Insomnia
Feeling Low
Muscle aches
Well-Being
Swedish massage can be enjoyed by anyone.

The NHR oil blends I use are:
Deep Relaxation - organic essential oils of : Lavender, Roman Chamomile, Clary Sage
Muscle & Joint Aches - organic essential oils of : Rosemary, Lavender, Clary Sage, Sweet Marjoram
Supporting & Strengthening - organic essential oils of : Tea Tree, Eucalyptus, Rosemary
Invigorating - organic essential oils of : Rosemary, Geranium, Neroli
Sensual & Luxurious - organic essential oils of : Ylang Ylang, Geranium, Neroli
Feminine - organic essential oils of : Geranium, Lavender, Rose Otto
3. A well executed Swedish massage has many benefits...
Deep Relaxation...reducing stress and anxiety for both chronic conditions and a build of day to day stress and tension
Sleep...promoting deep and restful sleep; helping normalise sleep patterns
Aches & Pains...reducing general muscle tension and stiffness; promoting ease across the body
Well-Being...promoting health and well-being; a truly lovely way to nurture yourself!
4. What happens during a session?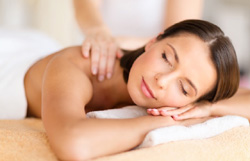 At the first session a written consultation is undertaken which takes about 30 to 40 minutes. I will ask you a series of questions around lifestyle, diet and your health/medical history to allow me to build up a picture that enables me to tailor your treatment more specifically in order to get the best results for you. You will be asked to remove appropriate clothing in private and make yourself comfortable on the massage couch with large warm towels to cover you ready for your treatment. During the massage, only the part of your body being massaged will be exposed in order to protect your modesty.
5. How many treatments will I need and how long are they?
Relaxation therapies can be enjoyed as individual one off treatments periodically or as part of course of treatment over a number of weeks to help with issues such as stress and anxiety ....a lot of clients choose a different relaxation or combinations of the different treatments each time they come in.
Treatments length varies...please see the price list below for more information.
6. Therapy Room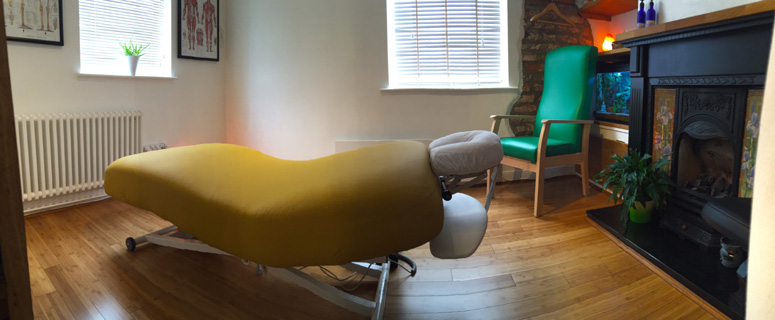 I work from home and have created a bright, uplifting therapy studio. The massage couch I use is a fully electric - height / back rest / knee lift - adjustable thickly padded, extra wide, heated spa couch. Changing facilities are provided in the therapy room which is closed off by screened doors whilst you prepare for your treatment.
7. 2018 Price List & Treatment Options
Treatments are undertaken from an uplifting, smart dedicated therapy space located at the following address within the Historic Market town of Beverley in East Yorkshire.
'Corner Cottage', No 2 Pasture Terrace, Beverley, East Yorkshire, HU17 8DR' (opposite number 35 Pasture Terrace)
There is normally plenty of street parking available for up to 2 hours..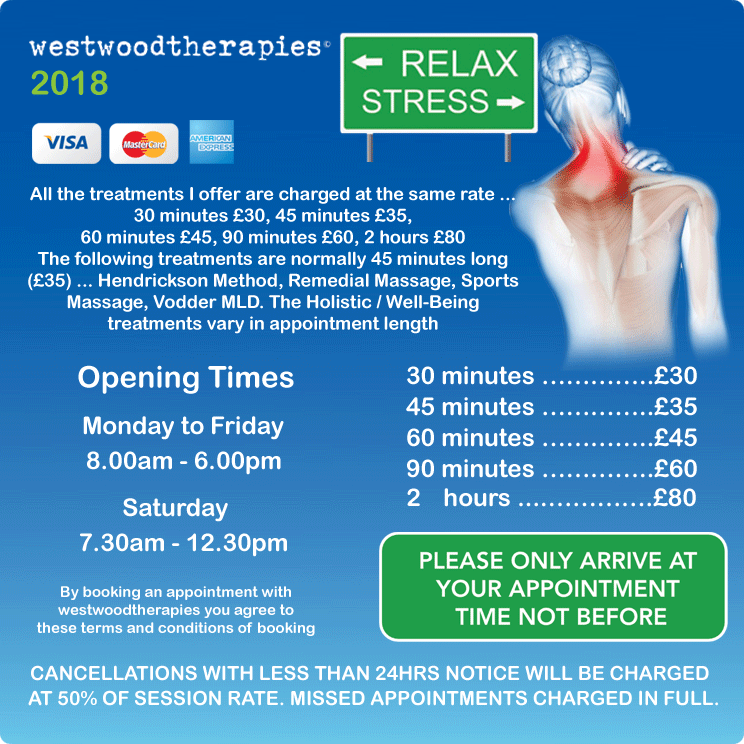 8. Booking an appointment or making a general enquiry
Text message is the best way to contact me, I can usually reply between appointments.
Mobile –
e-mail –
Andrew Brown - NAMMT (RMAdv)
Professional Associations - Registered Member Of
NAMMT - National Association of Massage & Manipulative Therapists
Qualifications & Training
Advanced
Hendrickson Method Practitioner (level 5)
Advanced Remedial Massage Diploma - Northern Institute of Massage (level 5)
Dr. Vodder method of Manual Lymphatic Drainage Massage (to Therapy 1)
Level 4 Sports Massage & Sports Injury Management (ITEC)
Advanced Strategies in Deep Tissue Massage & Myofascial Release (Art Riggs)
Provision of Remedial Exercise
Introduction to Strength & Conditioning
Trigger Point Therapy
Somatic Movement Coaching HSE Level 1
Tui Na - CPD
Holistic
Holistic (Swedish) Massage ITEC Level 3
Aromatherapy Pre-blends ITEC Level 3
Onsite Chair Massage
Detox Massage
Thai Massage (Levels 1 & 2)
Hawaiian Facial Massage
Lomi Lomi Hawaiian Massage Diploma
Reiki Level 1 & 2 since 1999 ...Master/Teacher Level since 2006
EFT Advanced Therapist
Traditional Ear Candling