Massage and Manual Therapy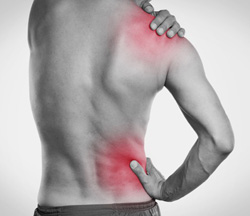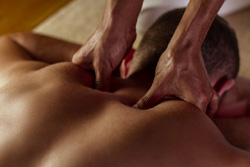 Combining these advanced bodywork techniques ...Advanced Remedial Massage, The Hendrickson Method of Soft Tissue Massage & Manual Therapy for Orthopaedic Conditions, somatic Movement, Remedial Exercise ...for treatment of musculoskeletal restriction, pain and discomfort.
1. Who can benefit from Orthopaedic & Advanced Remedial - 'Massage and Manual Therapy' ?
Regular clients include...
OFFICE WORKERS ..neck, shoulders and low back pain, headaches / migranes
FARMERS ... back back, shoulders, neck pain
HAIRDRESSERS ...beck, shoulders, back pain, frozen shoulder
LONG DISTANCE DRIVERS ...Sciatica and low back pain, disc problems
NEW PARENTS ...Muscle strains from carrying youngster
BUILDERS / MANUAL LABOURERS ...back pain, hip pain and injury
MASSAGE & BEAUTY THERAPISTS ...mid back and low back pain and tension
ARTHRITIS SUFFERS ...inflammation and pain with restricted movement...hands, back, neck

2. How does this type of bodywork differ from other forms of massage?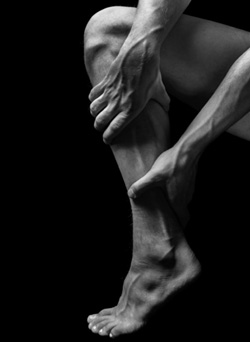 This is a targeted type of treatment focusing on the areas of pain and discomfort specifically, this is not a relaxation massage and it isn't sports focused. An orthopaedic style assessment process is undertaken to identify the problem areas from which a treatment plan is created and put into action.
The techniques that can be used in this treatment are ...
Advanced Remedial Massage which utilises focused, deep, soft tissue massage and joint mobilisation techniques to 'remedy' a problem
Somatic Movement ...gentle home exercise movements for releasing muscle tension
Remedial Exercise …home stretching and strengthening exercises
Hendrickson Method of Soft Tissue Massage & Manual Therapy. This method can be very light and gentle making it very effective for reducing pain in conditions such as spondylosis and spondylitis where remedial or sports massage would be too intense. It can also be applied very deeply to help with chronic conditions of joint restriction and deep muscle tension. HM uses a unique combination of three techniques to bring about optimum results in treating orthopaedic condition…these are (shown below) 1. Wave Mobilisation 2. Joint Mobilisation 3. MET (Muscle Energy Technique)
Wave Mobilization therapy features strokes that are rounded, scooping movements performed perpendicular to soft tissue in repeated rhythmic cycles. They are applied at a frequency of approximately 60 cycles per minute, which matches the ideal resting heart rate. Wave Mobilization therapy is extremely relaxing and profoundly healing.
Joint Mobilisation: The joints and their surrounding soft tissue are typically the primary source of pain in a body. Acute injuries often result in swelling, loss of joint motion, and the inhibition of normal muscle function by neurological reflexes. Chronic joint problems, whether due to degeneration or dysfunction, are almost always the result of misaligned and restricted joints, which prevent normal movement. Hendrickson Method includes specific protocols for treating acute and chronic joint problems that are efficient and effective in reducing pain and restoring normal movement.
The third modality used by Hendrickson Method Practitioners is Muscle Energy Technique (MET), which addresses the nervous system. By having clients actively resist gentle, strategic applications of pressure, practitioners promote the rehabilitation of malfunctioning nerves. MET also helps strengthen weak muscles, eliminates trigger points, relaxes chronically tight muscles, and improves the range of motion of joints.
3. Massage and Manual Therapy benefits

When used as a course of treatment or as an on-going management tool the benefits include:

Improved range of motion of joints and limbs
Acceleration of soft tissue healing
Reduction of inflammation across the body, reduction in pain
Reduction of muscle spasm which can interfere with normal posture and movement
Improvement in overall well-being and enjoyment of life
4. What happens during an appointment ?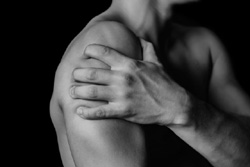 At the first appointment a comprehensive consultation is undertaken to screen out anything which may require medical intervention or a different type of therapy. This is followed by an assessment of the areas of discomfort and a general postural assessment to help identify areas of imbalance across the body. The information is recorded and used to formulate the treatment plan; this usually takes 20 minutes. Treatment is a combination of different Advanced Massage and Manual Therapy techniques such as the Hendrickson Method …which can be done through clothing...other techniques such as Advanced Remedial Massage are directly onto the skin using lubricants either. Gentle Somatic Home Exercises and Remedial Exercises are given to help you with on-going self-management.
Elderly or disabled clients need to be accompanied by a chaperone
5. "How many appointments will I need and how long are they ?"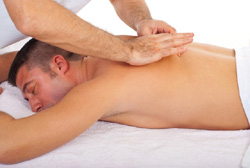 This depends on the severity of the problem. The first appointment is usually either 45 or 60 minutes in length and includes consultation / assessment / treatment. For example chronic neck and shoulder tightness and tension headaches can often ease significantly after two to three treatments. 30 or 45 minute treatments are good for an intensive back massage neck & shoulder treatment. A lot of clients come in for monthly maintenance massage to help with long-term issues and help with general well-being or sports performance. Longer treatments of 60 or 90 minutes allow a greater area of the body to be worked. Regular maintenance massage helps significantly with long-term issues and improves well-being !!!
Elderly or disabled clients need to be accompanied by a chaperone
6. Therapy Room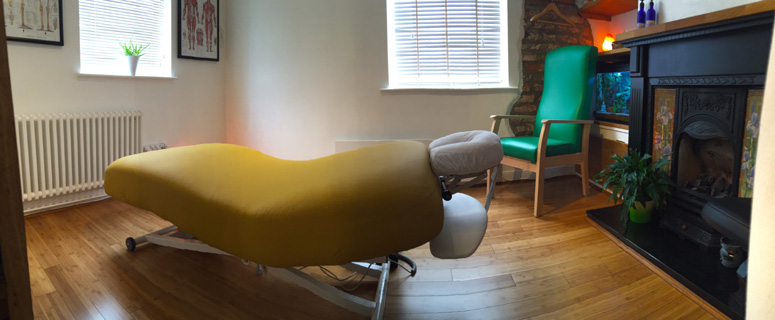 I work from home and have a light and bright dedicated therapy room with a fully adjustable, heated electric couch with extra thick comfort padding and comfort headrest to allow for extended treatments of 90 minutes and two hours.
7. 2019 Prices and Appointment times for 'Massage & Manual Therapy'
ALL THERAPIES ARE CHARGED AT THE SAME RATE.
First appointments for Advanced Remedial Massage & Manual Therapy and all other treatments, except Lomi-lomi, are normally 45 minutes with a choice of follow up appointments ranging from 30 minutes, 45, 60, 90 or 120 minutes.
Lomi-Lomi treatments are 60, 90 or 120 minutes.
30 minutes ….. £35
45 minutes ….. £40
60 minutes ….. £50
90 minutes ….. £70
120 minutes … £90

TERMS & CONDITIONS OF BOOKING : CANCELLATIONS WITH LESS THAN 48 HOURS NOTICE ARE CHARGED 50% OF THE APPOINTMENT FEE. CANCELLATIONS WITH LESS THAN 24 HOURS NOTICE & MISSED APPOINTMENTS ARE CHARGED IN FULL. UNLESS THE APPOINTMENT CAN BE FILLED.
Monday / Tuesday / Wednesday / Thursday / Friday …… 8am - 6.15pm
Saturday …… 7.30am until mid afternoon
8. Booking an appointment or making a general enquiry
Text message is the best way to contact me, I can usually reply between appointments.
Text ….or call …(any time) – 07747 842 748
e-mail – westwoodtherapies@icloud.com
Elderly or disabled clients need to be accompanied by a chaperone
9. Qualifications and Training
Andrew Brown - NAMMT (RMAdv)
Professional Associations - Registered Member Of
NAMMT - National Association of Massage & Manipulative Therapists
Qualifications & Training
Advanced
Hendrickson Method Practitioner (level 5)
Advanced Remedial Massage Diploma - Northern Institute of Massage (level 5)
Dr. Vodder method of Manual Lymphatic Drainage Massage (to Therapy 1)
Level 4 Sports Massage & Sports Injury Management (ITEC)
Advanced Strategies in Deep Tissue Massage & Myofascial Release (Art Riggs)
Provision of Remedial Exercise
Introduction to Strength & Conditioning
Trigger Point Therapy
Somatic Movement Coaching HSE Level 1
Tui Na - CPD
Holistic
Holistic (Swedish) Massage ITEC Level 3
Aromatherapy Pre-blends ITEC Level 3
Onsite Chair Massage
Detox Massage
Thai Massage (Levels 1 & 2)
Hawaiian Facial Massage
Lomi Lomi Hawaiian Massage Diploma
Reiki Level 1 & 2 since 1999 ...Master/Teacher Level since 2006
EFT Advanced Therapist
Traditional Ear Candling