Therapies Overview Qualifications
Mobile Massage
1. Mobile Treatments
I'm now making available occasional mobile massage visits for clients who want to enjoy a treatment in the comfort of their own setting. Please bear in mind that I'm often booked up weeks in advance so mobile treatments have to work around this where possible...as with my normal practice it's always best to book in advance.
An extra charge is added onto my standard rates to cover the extra time taken and fuel to and from the location I'm visiting: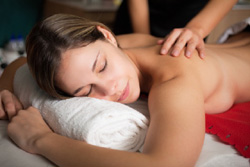 Distance from Beverley
0 - 15 miles + £10
15 - 30 miles + £20
30 - 60 miles + £30
A 50% non refundable deposit is required at the time of booking, this can be by bank transfer. I'm also able to offer some appointment times outside of my normal working hours with enough advance notice.
All the treatment styles I offer are available but you will need to confirm which one you want at the time of booking so I bring the appropriate equipment and couch with me. I've got a 32 inch wide luxury portable couch with extra thick padding for longer combined treatments or relaxation focused treatments... and also a second smaller couch specifically designed for manual therapy (Hendrickson/Tui-Na/Sports) style treatments.
2. 2021 Prices and Appointment times
Appointment Times & Prices ...(varies)
Mon / Tues / Thurs / Fri ....& every 4th Saturday
9am / 11am / 1pm / 3pm / 5pm

Lomi-Lomi and Mobile Massage priced separately, please refer to those pages for details. All other therapies charged at the same rate as follows:
60 minutes ….. £55
90 hours ….. £75
TERMS & CONDITIONS OF BOOKING :
Cancellation Charges ... unless the appointment can be filled
Less than 48 hours 50%
Less than 24 hours 100%
Missed appointments 100%
3. Booking an appointment or making a general enquiry
Text message is the best way to contact me, I can usually reply between appointments.
Text ….or call …(any time) – 07747 842 748
e-mail – westwoodtherapies@icloud.com
4. Qualifications and Training
Andrew Brown - NAMMT (RMAdv), Dip. Tui Na F BH®
Professional Associations - Registered Member Of
NAMMT - National Association of Massage & Manipulative Therapists
CNHC - Complementary & Natural Healthcare Council
Qualifications & Training
Advanced
Tui-Na / Chinese Massage and Manual Therapy Foundation Diploma (Body Harmonics)
Hendrickson Method Practitioner (level 5)
Advanced Remedial Massage Diploma - Northern Institute of Massage (level 5)
Dr. Vodder method of Manual Lymphatic Drainage Massage (to Therapy 1)
Level 4 Sports Massage & Sports Injury Management (ITEC)
Advanced Strategies in Deep Tissue Massage & Myofascial Release (Art Riggs)
Provision of Remedial Exercise
Introduction to Strength & Conditioning
Trigger Point Therapy
Somatic Movement Coaching HSE Level 1
Tui Na - CPD introduction (Gateway)
Holistic
Holistic (Swedish) Massage ITEC Level 3
Aromatherapy Pre-blends ITEC Level 3
Onsite Chair Massage
Detox Massage
Thai Massage (Levels 1 & 2)
Hawaiian Facial Massage
Lomi Lomi Hawaiian Massage Diploma
Reiki Level 1 & 2 since 1999 ...Master/Teacher Level since 2006
EFT Advanced Therapist
Traditional Ear Candling
'Pregnancy Massage' gateway